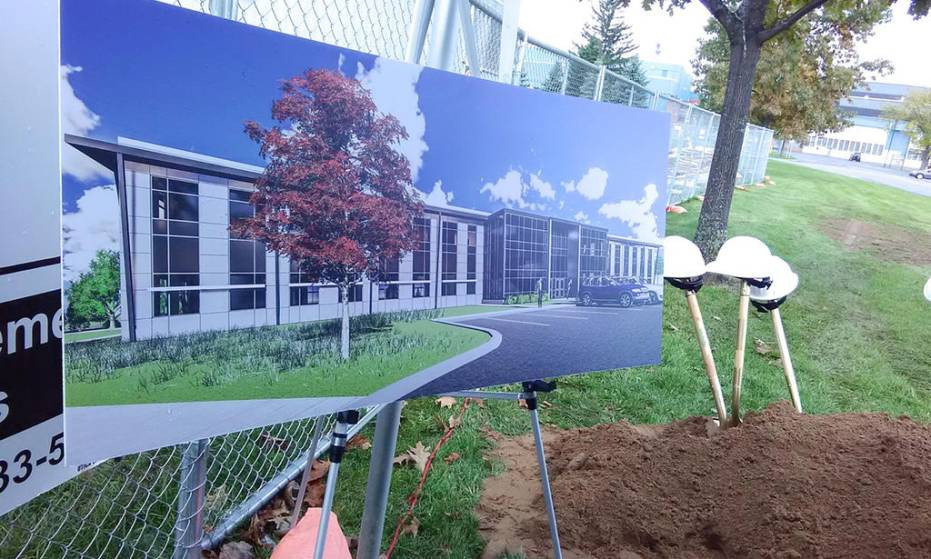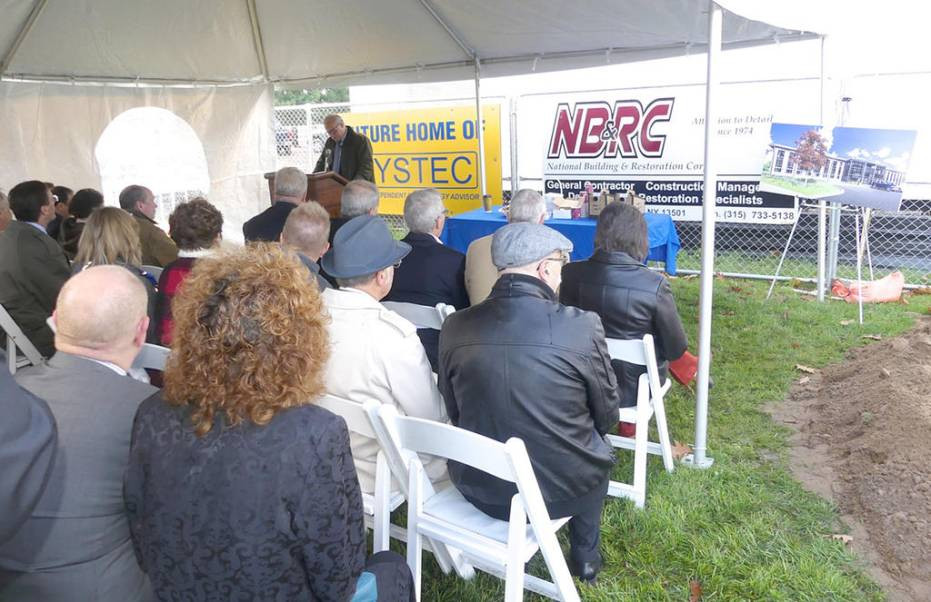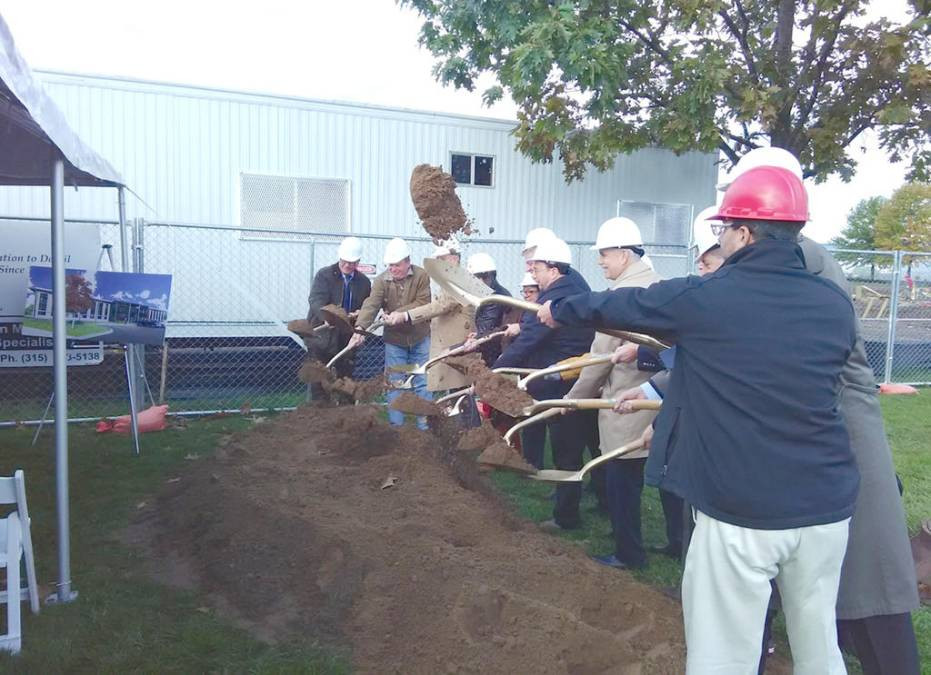 Consultancy agency starts headquarters at Griffiss
October 25, 2018
DAVID HILL - Staff writer, Rome Sentinel
More than 20 years after being formed to help cope with the closure of the Griffiss Air Force Base and the loss of jobs there, a not-for-profit consulting agency is coming home to Rome on the grounds of the former installation.
Elected and economic-development officials on Wednesday held a ceremonial ground-breaking on a 32,110-square-foot office building that will be the headquarters of ny state technology enterprise corp., known as NYSTEC. The $85 million project is the work of NYSDEC and the Griffiss Local Development Corporation, the agency formed to oversee redevelopment of the sprawling former long-range bomber base.
NYSTEC will occupy about half of the building with the rest open to lease by other companies, some of which have already shown interest. It's at 99 Otis St., the southwest corner of Otis and Hangar Road near the Air Force Research Laboratory, known as Rome Lab.
"We were born in Rome, we grew up in Rome, and now we have the opportunity to build our own headquarters 22 years later here on the base, which was really the essence of how we started," NYSTEC president and CEO Mike Walsh said in an interview at the ceremony.
As Walsh and board member Tom Triscari described it, NYSTEC is a sort of clearinghouse of itinerant technology, business and procedures consultants. It helps companies and government agencies with planning and start-up tasks such asprivacy, security, information networks, request-for-proposal development, project management, quality assurance, software testing, digital learning and training, radio and microwave communications, and finance. It provides expertise to organizations that need help with specific tasks rather than hiring them on.
"You don't want to pay that person for two years not to do anything," Walsh said. "So people sort of rent them, and we coordinate it."
NYSTEC has about 170 employees spread among bases in Albany, New York City and an office on Avery Lane in Rome.
"We currently have 35 we'll move here and then we quickly want to move up to 50 and then we want to double that," Walsh said.
NYSTEC also has a business start-up and incubation service known as IgniteU NY that can help with things such as preparing to pitch a business idea to venture capitalists, Triscari said.
Construction has begun on the site. The building was designed by March Associates of Utica, and National Building Restoration Corp. of Utica is the general contractor.
The project received breaks on local taxes approved by the Oneida County Industrial Development Agency. The incentive package consisted of a sales tax exemption of $270,690, mortgage recording tax exemption of $25,785, and a fixed-payment real property tax abatement schedule valued at $1,458,426 over 20 years. The IDA board's approval was conditioned upon NYSTEC retaining jobs and creating 35 jobs by the third year.
It also got a $1.1 million grant from Empire State Development and help through the state from base redevelopment funds.
Elected officials who spoke at Wednesday's ceremony noted how far the Rome area and Oneida County have come since news broke that the region's dominant employer would close. State Sen. Joseph Griffo, R-Rome, formerly the city's mayor, attributed the change in attitude to perseverence and cooperation. Current Rome Mayor Jacqueline Izzo said an Air Force general told her after seeing today's Griffis that it's far different from most closed bases, which are often mothballed and decrepit.
"We've gone through a whole new generation, another generation who don't know what Griffiss Air Force Base was but who know what Griffiss Business and Technology Park is,"
Oneida County Executive Anthony Picente said.
"It's a great day for Griffiss, it's a great day for Rome and the Mohawk Valley," said New York Office of General Services Commissioner RoAnn Destito.
Credit: Rome Sentinel | Read Original Article