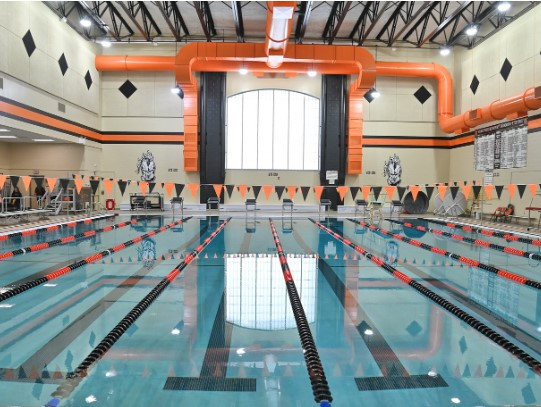 Rome Central School District Phase 3
October 24, 2022
Mike Jaquays
Staff writer
 
ROME — For the last year and a half, Rome Free Academy swimming and diving team student-athletes have competed in "home" swim team meets that weren't really at "home" at all.
Their pool at RFA was closed for renovations so their official "home" pool for swim meets was moved to Holland Patent. But that recently changed at the beginning of the girls team's fall season, as the newly improved indoor pool at their school finally reopened.
Rome City School District Superintendent Peter Blake said they decided to renovate the 25-yard, eight-lane pool as part of a recent capital improvement project.
"We had issues with the roof above the pool and some grounding issues with the pool as well which led us to basically shut it down for a year and do an entire renovation on the natatorium. Most everything in the room is new and/or painted," Blake said.
The pool, which is used for swim classes and swim team practice and competition, closed in March 2021. Renovations took place through this past July, said Michelle Browne, the coach of both the boys and girls swimming and diving teams at the school. Meanwhile, swim team members went to Holland Patent or across the city to the New York State School for the Deaf for their practices.
Now, the roof has been fixed, plus there is new tiling surrounding the pool, a new timing system and a new air handling exhaust system that removes much of the humidity from the pool area. There are new starting blocks, a new diving board, new lifeguard equipment, new lane lines and other swim meet accoutrements. The bleachers have been renovated as well and so have the doors.
A fresh paint job — with the letters RFA and their Black Knight mascot logos adorning the wall — brightens the room.
"Having a pool that is taken care of and a facility that promotes school pride and is up to date for the student-athletes is a major benefit, in my opinion," Blake said. "Our students and community deserve to have the best facilities we can provide and I am pleased that our renovated natatorium provides this for our kids, school and community."
The boys swimming and diving team starts its own 2022-2023 season in the winter.
In addition to swim team meets and practices in the pool, there is also lifeguard training for certification plus intermediate swim classes, which count towards physical education requirements. There are even kayaking classes there, also taught by Browne.
RFA 11th-grader Imani Pugh has been on the girls swimming and diving team for three years. She said the renovations have made the pool area much brighter and the water is warmer. Plus she expects to swim better in competition with the improvements.
"I think it's quicker now because there is not a lot of resistance," she said. "This is definitely my favorite pool around."
Browne, who has coached the boys team since 2002 and the girls team since 2003, said she purposely did not check on the renovations as they were in progress. She decided to wait until the first day of swim practice this past Aug. 22 to see what was done in the meantime.
"I didn't come in at all during the renovations. And then I finally saw it and it was like opening a present on Christmas," she said.
The girls swimming and diving team's next home meet is at 5:30 p.m. Tuesday, Oct. 4 and is a quad meet welcoming Whitesboro, Holland Patent and Cooperstown/Milford.
Link: Renovated RFA pool makes splash with reopening | Daily Sentinel (romesentinel.com)